Being an environmental company, Newtech started its activities in the field of Air & Water – first started marketing water purification systems based on copper & silver ionization, Indoor air purification systems which helps clean the indoor air pollution from smoke, dust, etc., Also started selling air curtains which prevents dust getting inside and at the same time preventing air conditioned air going out thus saving 40% energy. Slowly, it entered into the industrial market – supplied dust collectors, participated in the ESP, Sewerage treatment plants, etc,
Since it has been already in the indoor air quality market, clients started asking as to how to find out the quality of the air in the office buildings, etc. Which resulted in signing an agreement with the largest producers of Indoor Air quality monitoring instruments, Graywolf in the year 2003. Now Newtech thus supply, commission and train Graywolf instuments in the middle east.
To cater to the commercial market, Newtech started marketing HAVC systems (air handling units of ABB/Flakt and successfully executed Bahrain City Centre and its hotel fit outs, King Hamad Hospitals, Royal College of Surgeons of Ireland projects.
Air Quality Engineering
Air Purifiers / Smoke Purifiers
A wide variety of air cleaners, purifiers and air filtration systems for commercial and home applications
Products include:
Smokemaster® line of ESP for tobacco smoke
Miracle Air &EverClear line of HEPA type media air cleaners
Fume Fighter line fume filtration equipment for solder fumes
Mist Buster line of oil and mist collectors.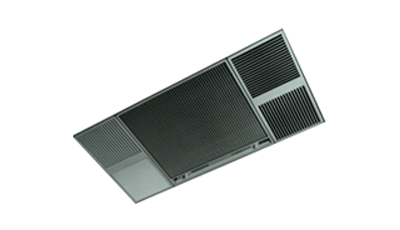 Caribbean Clear
Ionization system, based on the NASA technology – A computer monitors the water condition and electrode wear and then introduces minute amounts of copper and silver ions into the water. Copper is an excellent algaecide and the EPA reports that extremely small amounts of silver are sufficient to sterilize water.
Computerized automatic controller can inject right amount of copper and silver ions and also dose right amount of Chlorine/Bromine and Hydrochloric acid to maintain the balance of pH in the swimming pool water.
Caribbean Clear offers a full line of copper/silver ionization products for spas, backyard pools and commercial applications. Experience has shown that matching ionization performance with water volume and the water's characteristics is important for proper performance and optimum efficiency. Each Caribbean Clear system offers at least 10 output settings which allow full control of the ionization output and the resulting levels of copper and silver. Periodic testing with the included test kit will allow the pool operator to determine the copper level and make any adjustments necessary.

Elan Cité
Elan Cité (2005) is a french worldwide leading manufacturer of Evolis Radar Speed Signs, with over 17,000 units installed in 50+ countries.
Evolis radar speed signs are known to be
efficient in traffic calming, thanks to most precise Doppler Detection and best distance visibility thanks to Osram high brightness LEDs
reliable over time thanks to high technology components (ABS resin injected casing) and ISO9001 industrialized production and quality control of electronics
Graywolf
Indoor Air Quality Monitor
Indoor air quality (IAQ) Monitors make proactive IAQ surveys efficient and easy to conduct. They optimize the balance between facility energy efficiency and occupant health & comfort. Identify potential IAQ issues before they become problems and respond immediately to complaints with the highly accurate, extremely advanced and most intuitive portable IAQ meters and test instrumentation available today.
These IAQ meters are designed for both walk-thru surveys and for long term (hours/days/weeks) trend logging: the 2 modes necessary for thorough indoor air quality investigations.
Other Products
Toxic Gas Test Instruments
TVOC (PID) Monitor
Air Velocity Meter
Differential Pressure Digital Manometers
Pitot tube Airflow
Carbon Dioxide Test Meters
Relative Humidity (%RH) Instrument
Ammonia, Ozone, H2S, HCN, CO2, CO, NO, NO2, EtO, Cl2, HCl other specific gas parameters
Formaldehyde Data-Logger, stand-alone Monitor
Particulate Concentration, Particle Count Sensors
Laboratory Fumehood Test Instrumentation
Advanced Report Generator; efficient, detailed professional Environmental Reports
Indoor Environmental IEQ, IAQ Survey Meters
Volume Flow & Ventilation Test Meter
Mars Air
Air Curtains all climates and environmental conditions since 1962. Air Doors stabilize environment by controlling energy, climate, fumes, insects and dust. It also acts as a barrier between smoking and non-smoking areas.
Products include:
Lo-Pro for Commercial & Quiet applications
Standard HV & EP Series for Industrial applications
HEPAC Air curtains for hospitals & Clean rooms
Radar Speed Signs and Modular Rubber Solutions
SafePace 100 – Portable compact solution offering exceptional visibility and power efficiency at remarkably affordable pricing
SafePace 400 – is a static "YOUR SPEED" radar speed sign, competitively priced, with full range of functionality and outstanding features such as easy-to-use management software, sign scheduling, data collection, robust statistical reporting, low power con­sumption and unique vandal resistant construction. SafePace 600 – this versatile radar feedback sign has two lines of completely customizable LEDs that can display text, graphics, or animation. Displays chosen message(s), based on scheduling or driver behavior, ranging from just speed alerts to notifications about an event, construction or dangerous road conditions.
SafePace 700 – similar to Safe Pace 600 except for larger display digits
SafePace 800 – offers unparalleled versatility with both radar speed display and variable message board in one streamlined sign), based on scheduling or driver behavior. The full matrix LED sign can be rotated from a vertical driver feedback sign to a horizontal message board
School Zone Systems – protects children around their schools by reducing the speed of passing cars and decreasing the likelihood of vehicle accidents. The school zone flashing signs are a low cost, low maintenance traffic calming alternative that ensures children can walk and bike to school safely. The flashing school zone system accommodates any of the Traffic Logix SafePace radar speed display signs. SafePace Beacon System – provides a visual alert to drivers of changed driving conditions such as school zones, pedestrian crossing, or construction ahead, proven to improve safety by making drivers more vigilant and are a low-cost, low-maintenance solution