Mr. A. Ponnuchamy
Managing Director
Newtech International Co Ltd" is a leading Engineering based Trading and Support Services company in the state of Qatar which was established by its founder Mr. A.Ponnuchamy in the year 2005.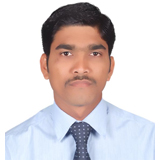 Mr. M.V. Madhan Kumar
Sr. Sales Engineer (Instrumentation)
Sales Engineer with 11 years of experience in Sales of Instrumentation products. A versatile sales person who has established the brands of GTS, Moore Industries, FCI, Meyle automation products, Hycontrol among the leading industries in Qatar. Motivated by ", generation of sales as well as achieving targets he has carved a place in the market for himself as well as for all the products.
Mr. Arnold Lara Caangay
Project Manager (Environment)
Over 15 years' experience in the Middle East for Stack Emission monitoring utilizing US EPA regulation such as 40 CFR 60 and 75. He has successfully carried out numerous testing campaigns at various Oil & Gas plants in Qatar. Well versed in the following environmental testing methods, Particulate Matter testing (Method 1 to 5), Analytical Test (Method 6C, 7E, 10, 15, 18 & 25A), Dioxin & Furans (Method 23), NH3 & HCL (Method 26), Metal (Method 29), CEMS RATA, Leak Detection & Repair (LDAR)